Picture courtesy of KhaoSod.
An alarm has been raised over a hazardous marine creature, a Portuguese Man o' War, spotted at Lanta Island in Krabi. Holiday-goers to the sea are advised against using bare hands to touch the creature where they stumble upon it.
A tourist from Bangkok came across the creature during her recent vacation to Lanta Island's hotel located in Moo 2, Saladan, Koh Lanta. On July 29, the 42 year old Sasivimol Prommun, her husband, Prakan Boonsri and their three daughters, headed towards Phra Ae Beach, located directly in front of their hotel for a stroll. As they were bonding over building sandcastles, a wave swept the Portuguese Man o' War towards their area.
Following her husband's cries of discomfort, Sasivimol spotted the sea creature and promptly brought it ashore using a cup. After a quick Internet search, she realised it might be a Portuguese Man o' War. This discovery led her to quickly seek medical help for her husband at Lanta Island Hospital. On reaching the hospital, her husband's foot bore red rashes where the creature had touched him. He complained of a burning sensation and pain that had begun to radiate up his leg, reported KhaoSod.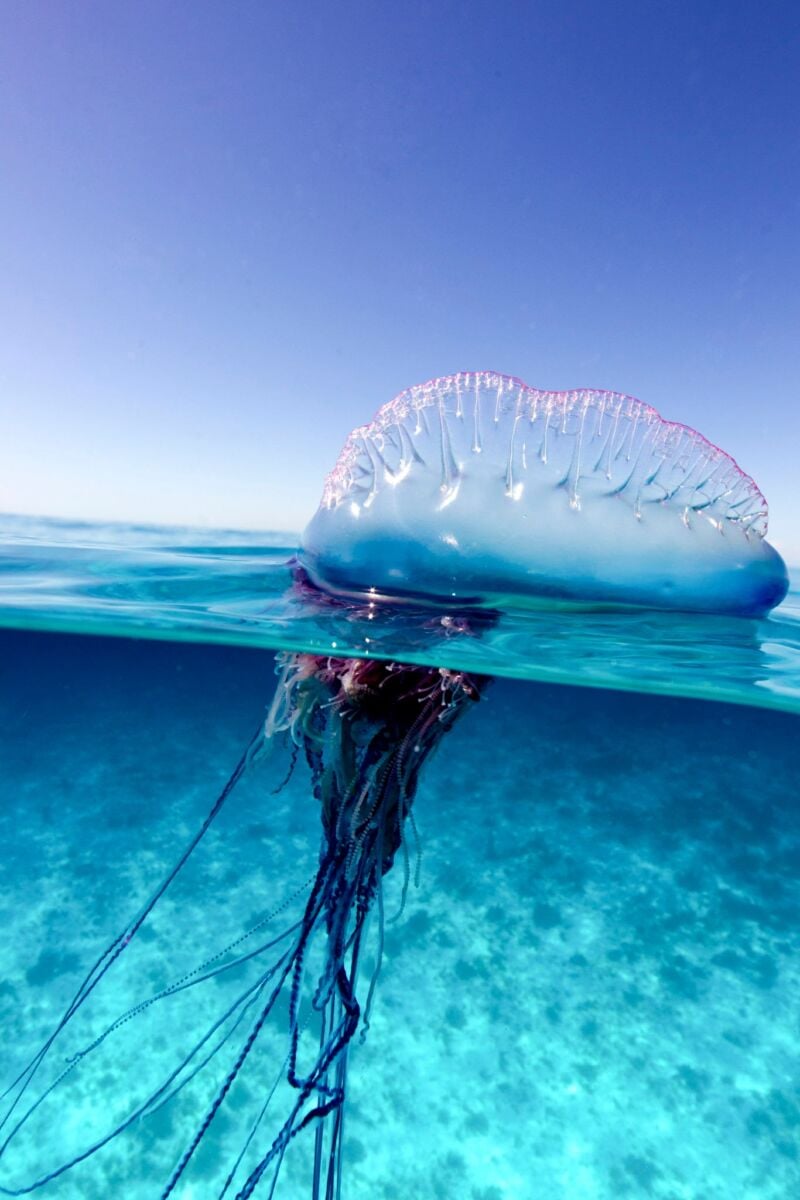 The hospital staff tended to him promptly, using orange peel vinegar to clean the wound and giving him medication to take orally, while monitoring his symptoms. Sasivimol decided to share this incident to raise awareness among the public and especially the Tourism Authority of Thailand to be more watchful for these venomous creatures. The hospital authorities themselves have acknowledged her husband as their first such case.
For those wondering, the Portuguese Man o' War (Physalia) also known as the Portuguese warship jellyfish, is a highly venomous species commonly found in foreign seas. However, they might be swept into the Thai seas during certain seasons such as the monsoon.
Those stung by this species may experience severe pain, skin, nerve, and heart complications, which can sometimes result in death. If encountered with this creature, materials such as wood, cards, or hard paper should be used to remove the creature's tentacles. It is strictly advised against touching it with bare hands.
Orange peel vinegar should be applied on the affected area and immediate medical attention should be sought.
Krabi NewsThailand NewsTourism News
Krabi News News Articles, Breaking Stories & Headlines | Thaiger