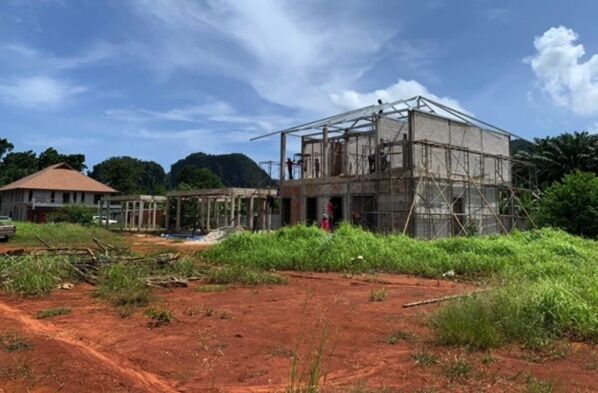 Photo by MGR Online.
Culprits behind the alleged theft of materials worth over 2 million baht from a pool villa in Krabi remain at large months after the event. The owner reported the incident to the police five months ago, but the suspects still haven't been caught.
Khwansurat Beger, a 32 year old woman originally from Surat Thani, invested over 10 million baht in the construction of a pool villa in the town of Ao Nang in Krabi. However, the construction was halted during the Covid-19 pandemic.
Things took a turn for the worst when, on February 10, Khwansurat and her family visited the construction site. They were shocked to discover that numerous construction tools and two large containers had been stolen, The Phuket Express reported.
Neighbours informed Khwansurat that in January of the same year, individuals with crane trucks had relocated the containers and some roof structures. At the time, it was assumed that the owner had known about the move.
In response to the incident, Khwansurat filed a complaint with the Ombudsman's office in Krabi and lodged a police report. The Ombudsman's office, also known as the Damrong Dhamma Centre, operates under the Ministry of Interior and provides free assistance to individuals who believe they have not received adequate justice. These offices are available in every province across Thailand.
In another theft incident last week, a Thai durian middleman accused the Aranyaprathet Customs House in the Isaan province of Sa Kaeo of stealing durians worth 1.8 million baht.
The story of the durian middleman caught fire on Thai social media on Sunday, June 25. According to several posts on Facebook, the middleman complained that the customs wrongly blamed him for illegally importing durians from Cambodia.
The middleman insisted that he had bought approximately eight tons of durians from a local plantation in the northeastern province of Si Sakate. To read the full story, click HERE.
Krabi News News Articles, Breaking Stories & Headlines | Thaiger