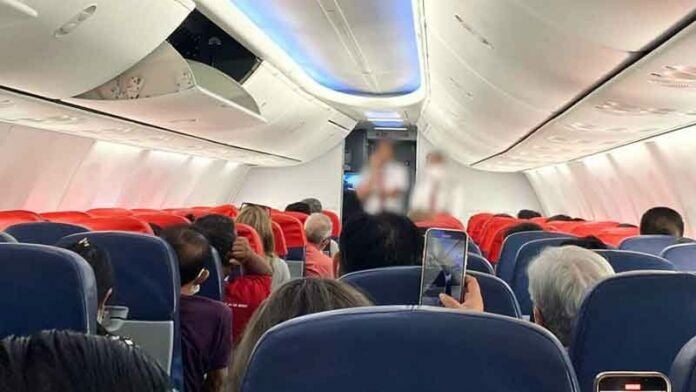 Picture courtesy of KhaoSod.
A heated online discussion was sparked when a disgruntled passenger shared his exasperating domestic flight experience. His intended short journey from Don Mueang International Airport to Trang, taking off at 7.35am yesterday and originally slated to land in Trang by 9am, turned out to be a distressing mid-air marathon caused by an unexpected chain of issues springing up.
As the plane was descending onto the Trang tarmac, a sudden uprise by the captain left the passengers perplexed. Shortly before reaching Krabi International Airport, an announcement highlighted the cause: Adverse weather conditions prohibiting their intended landing in Trang. Once at Krabi, the travellers were informed by the captain and an air hostess about a canine obstruction on the Trang airfield, requiring them to stop in Krabi for refuelling due to depleted fuel.
Roughly 50 minutes later, the captain instigated another attempt to land in Trang (a 20-minute flight), facing the original predicament of bad weather causing an inability to land. This repeated inconvenience led to their re-routing back to Krabi. The explanation given was that the small size of the Trang landing runway and the unfavourable weather prevented them from landing.
The mounting frustrations culminated at 11.20am, when passengers began voicing their dissatisfaction regarding the unfolding situation. Accumulated time wastage and safety concerns were the common grumbles, leading to a collective decision to debark at the Krabi airport instead. By 12.20pm, passengers were gradually exiting the aircraft, despite there being no definite solution to the predicament other than hollow apologies and an offer of refreshments onboard, reported KhaoSod.
In the original post, the passenger painstakingly questioned the logic behind the situation. How could the airline have operated regular flights to Trang until now, given that the airfield size remained constant? Also, observations suggested the weather was not particularly dreadful. Secondly, the passenger questioned the airline's accountability for the ongoing situation, pointing out that the ordeal reflected poorly on their professionalism.
At 1pm an update emerged from the airline mentioning that, if another effort to land in Trang failed, they would have to circle back to Don Mueang. They did not provide certainty on their responsibility management plan, suggesting disgruntled passengers contact counter reps instead. Consequently, deciding to depart at Krabi, the man managed a chartered van for the remaining journey to Trang, with assistance from a fellow traveller who happened to be a police officer.
In his post, the man also clarified that none of the passengers, including himself, accused the captain of negligence or disregarded safety measures. The grievances shared were purely a reflection of the situation, aiming at garnering solutions and responsibility acceptance from the airline. Hence, he called for courteous remarks in the conversation. The incident has raised questions about the airlines' crisis management measures, prompting a clear call for accountability from the carrier.
Krabi NewsThailand NewsTourism NewsTransport News
Krabi News News Articles, Breaking Stories & Headlines | Thaiger