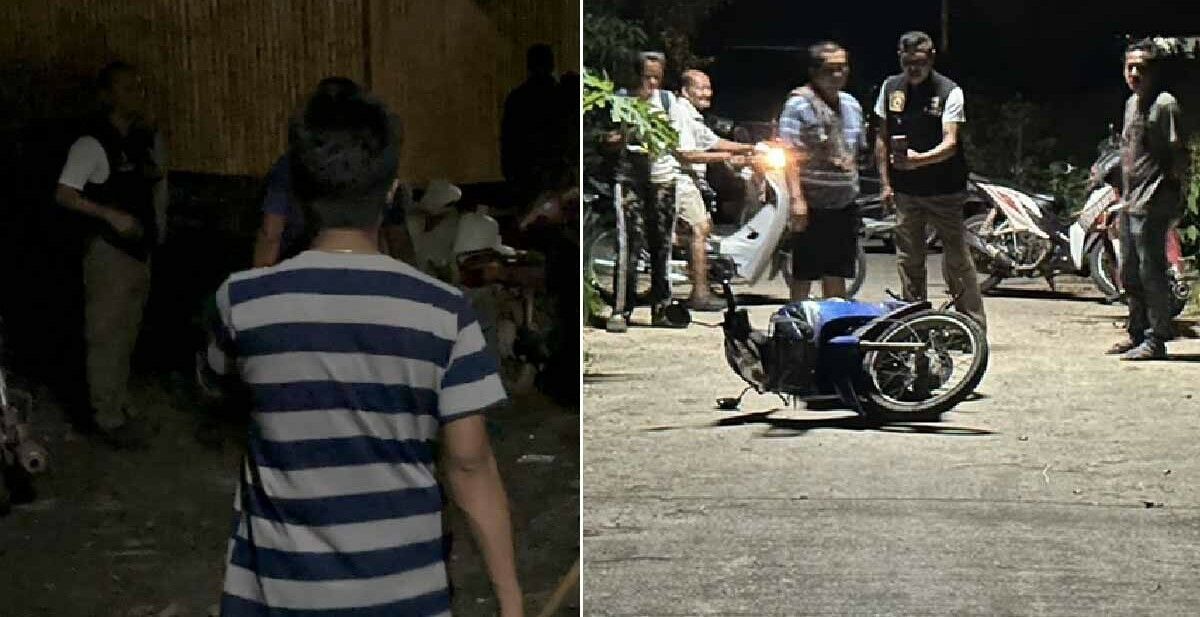 Image courtesy of KhaoSod Online
A neighbourhood argument escalated to gun violence, leaving a 26 year old in critical condition last night in Trang, Krabi. The victim, identified as Amornthep, was allegedly shot by his 25 year old neighbour, Natthapong, who subsequently fled the scene with his 52 year old father, Anon.
At about 9.30pm yesterday, local police were alerted to a shooting in front of a house in Trang City. When officers arrived on the scene, they found a blue Honda Wave motorcycle knocked over on the road in front of the house. Not far away, they discovered Amornthep with a single gunshot wound to his left arm. He was immediately rushed to Trang Hospital for treatment.
It was gathered that Natthapong and Amornthep, who lived near each other, were involved in a longstanding feud. Earlier, Amornthep appeared to be drunk and had parked his motorcycle in front of Anon's house. At that time, Anon was about to water his plants when Amornthep approached him. Noise erupted and Natthapong, who was inside the house, came out to intervene.
The argument quickly got out of hand, leading to Amornthep drawing a knife and attempting to stab Natthapong, who retaliated by shooting Amornthep in the left arm. The gunman and his father then fled the scene.
A subsequent investigation confirmed a volatile relationship between the two neighbours. The regular quarrels were usually over trivial matters, stated Kij Chaiyadet, former Deputy Mayor of Kok Lor Subdistrict. He stressed that the ongoing police investigation would shed more light on the real cause of the dispute.
With the situation now under control, the police are in the process of questioning witnesses from both sides. They are also searching the surrounding areas in an effort to apprehend the suspects, reported KhaoSod Online.
Meanwhile, in other news, a young teenager has suffered a serious injury due to a bomb fight with another group of students. Click the LINK to read more.
Crime NewsKrabi NewsThailand News
Krabi News News Articles, Breaking Stories & Headlines | Thaiger